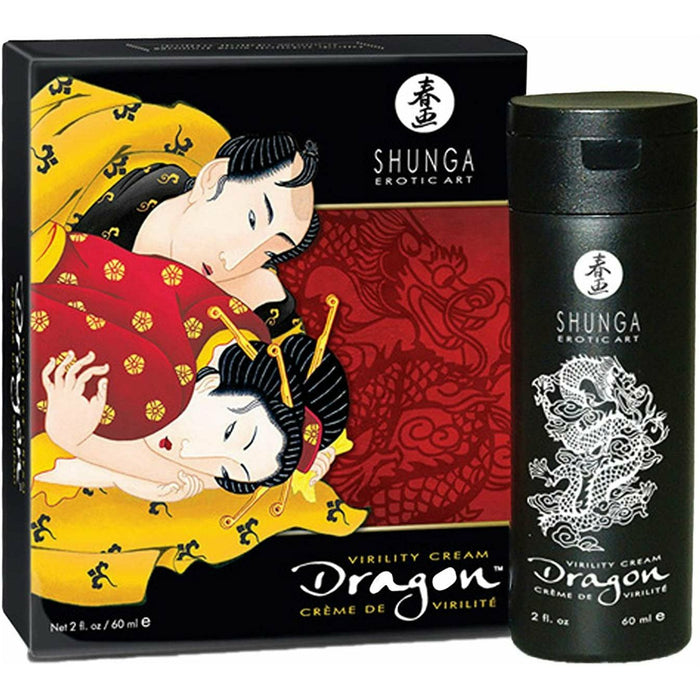 In order to honour your partner with all your might while enhancing your pleasure, Shunga has created the new Dragon Virility Cream, specially formulated for men. Its exclusive formula, made from all-natural extracts and herbs, helps men from the very first application to unleash their power and energy from their manhood.
Ideal for controlling sexual pleasure, the cream is applied prior to intercourse by massaging it all over the shaft of the male genitalia. The fire and ice sensation will take effect in minutes to follow. Furthermore, once your lover has come in contact with you and the cream, it will sensitize and intensify her pleasure, which will help you bring her to the peak of multiple intense orgasms.
At Simple Pleasures, we believe that healthy sexual activity and wellbeing should be beautiful, fun, exciting, vibrant, and empowering, and for this we have the most amazing range of beautiful products for everyone. We'd love to help you set the mood for a steamy night in with the most sensual bath bombs, massage oils and body oils, gorgeous lubricants to enhance the pleasure and the most beautiful and popular adult toys available. So we will always strive to ensure that you receive the best customer service, and your order is processed and ships as quickly as possible. We are as excited to ship it as you are to receive it. All packages are shipped in discrete, non marked packaging. Only YOU will be excited to see it!
Shipping rates are a flat $12 on orders under $150, and FREE on all orders over $150. 
Purchases made by 3pm weekdays will generally ship within 24 hours. All orders ship fully tracked through CourierPost, and can be delivered to any NZ physical address or PO Box. Once your order is completed, we will send you the tracking information in a Shipping Confirmation email, or you can access your order information via Your Account on the web site.