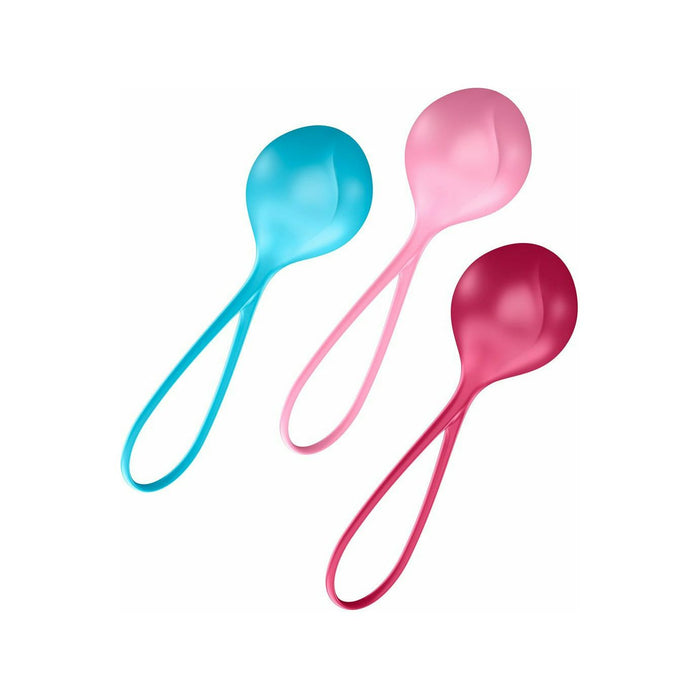 Wearing the Strengthening balls for 15 minutes a day trains your pelvic floor muscles - the muscles that enable you to experience breathtaking orgasms. This intro set includes 3 variable weights to support a gradual training of your pelvic floor.

The Strengthening Balls from Satisfyer help you strengthen your pelvic floor and enjoy breathtaking orgasms: The set of 3 Ben Wa balls will inspire you with their different weights, which allow you to gradually increase your pelvic floor training. Even a short daily workout of 15 minutes is enough to strengthen your pelvic floor for the long term. The Strengthening Balls are also suitable for women who have just given birth. But please speak to your doctor briefly before using them after giving birth.

The lightest ball in the set weighs 61.9g, the middle ball 82.1 g, and the heaviest ball 97.9 g – so both beginners and advanced users will find the right weight for them. Start with the lightest ball and move up slowly depending on how it – after a few weeks you will slowly improve. Thanks to the practical retrieval string, the Strengthening Balls are easy to insert and remove.

The balls are made of body-friendly, soft silicone that can be cleaned with water, a mild soap and Satisfyer's Disinfectant Spray before and after each use.
It's the age of the love-toy revolution, and Satisfyer stands out from the masses. With innovations like their revolutionary Air Pulse Technology, Satisfyer stimulates millions worldwide to their next climax, because they firmly believe that everyone deserves good orgasms.
At Simple Pleasures, we believe that healthy sexual activity and wellbeing should be beautiful, fun, exciting, vibrant, and empowering, and for this we have the most amazing range of beautiful products for everyone. We'd love to help you set the mood for a steamy night in with the most sensual bath bombs, massage oils and body oils, gorgeous lubricants to enhance the pleasure and the most beautiful and popular adult toys available. So we will always strive to ensure that you receive the best customer service, and your order is processed and ships as quickly as possible. We are as excited to ship it as you are to receive it. All packages are shipped in discrete, non marked packaging. Only YOU will be excited to see it!
Shipping rates are a flat $12 on orders under $150, and FREE on all orders over $150. 
Purchases made by 3pm weekdays will generally ship within 24 hours. All orders ship fully tracked through CourierPost, and can be delivered to any NZ physical address or PO Box. Once your order is completed, we will send you the tracking information in a Shipping Confirmation email, or you can access your order information via Your Account on the web site.