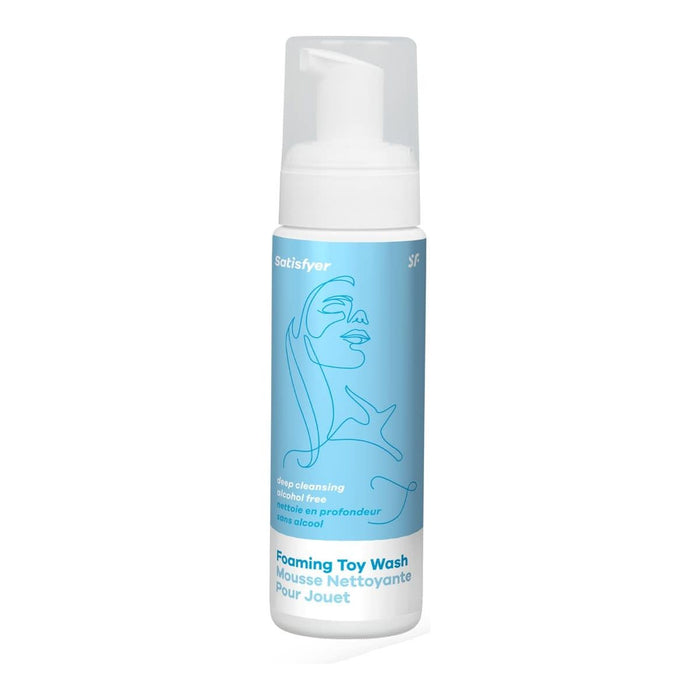 This disinfectant foam that is specially tailored to toys, provides gentle, but reliable protection against bacteria and viruses. Cleaning your toys by foam lathering is easy, gentle on the material, and effective all at the same time.
Your Satisfyer is designed to give you intense and breathtaking orgasms on a regular basis. To ensure that the delicate, super-soft silicone retains its high quality for a long time, it's important to always clean and maintain the surface thoroughly. The Satisfyer disinfectant spray for women is specially formulated for your Satisfyer and carefully removes a wide variety of fungi, bacteria, and viruses.

The alcohol-free Satisfyer Woman Disinfectant Spray is extra strong but still gentle on the material. Do not use a conventional disinfectant when cleaning, as this can attack the soft surface of your Satisfyer, make it porous, or damage your skin if you use your device again immediately after cleaning. Our Satisfyer sexual wellness device cleaners are harmless to your health, but should always be used directly on the product itself and not on your skin.

Thanks to the practical spray attachment you can easily wet your Satisfyer all around with disinfectant. First clean your pleasure-bringer with lukewarm water and soap and dry it with a dust-free cloth. Thanks to the waterproof (IPX7) finish of Satisfyer products, you don't have to worry when cleaning it with water. Then spray the product generously with the disinfectant and let it take effect for 1-2 minutes. Just wipe it dry with a lint-free cloth and your Satisfyer is ready for your next orgasm.

At Simple Pleasures, we believe that healthy sexual activity and wellbeing should be beautiful, fun, exciting, vibrant, and empowering, and for this we have the most amazing range of beautiful products for everyone. We'd love to help you set the mood for a steamy night in with the most sensual bath bombs, massage oils and body oils, gorgeous lubricants to enhance the pleasure and the most beautiful and popular adult toys available. So we will always strive to ensure that you receive the best customer service, and your order is processed and ships as quickly as possible. We are as excited to ship it as you are to receive it. All packages are shipped in discrete, non marked packaging. Only YOU will be excited to see it!
Shipping rates are a flat $12 on orders under $150, and FREE on all orders over $150. 
Purchases made by 3pm weekdays will generally ship within 24 hours. All orders ship fully tracked through CourierPost, and can be delivered to any NZ physical address or PO Box. Once your order is completed, we will send you the tracking information in a Shipping Confirmation email, or you can access your order information via Your Account on the web site.