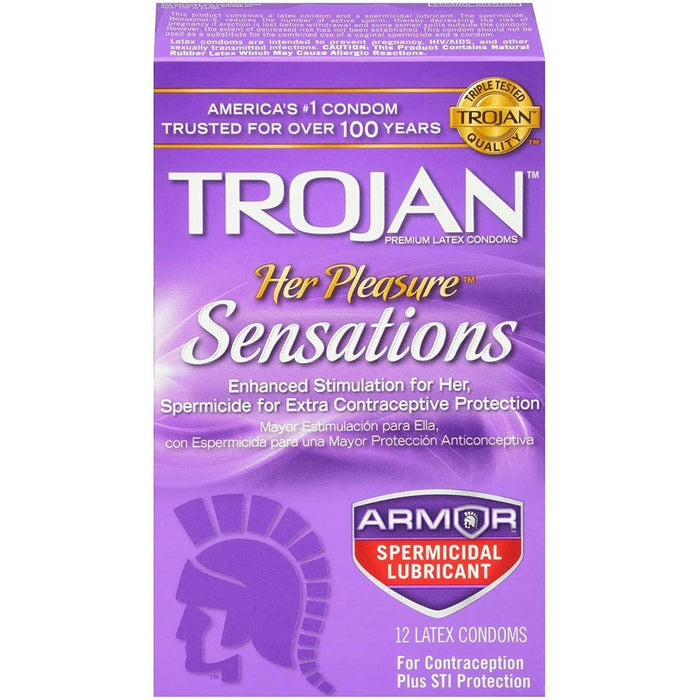 Pleasure for her, extra protection for you both. Trojan Her Pleasure Armor condoms with spermicidal lubricant feature a unique texture and lube designed specifically for female stimulation. These condoms have a special reservoir end and are covered in Nonoxynol-9 (7%) Spermicide to help provide additional protection against pregnancy.

Some words of caution: Spermicide provides extra protection against pregnancy, but spermicide alone does NOT better protect you against HIV or other STIs. Heads up that some people are sensitive to Nonoxynol-9, and these are NOT suitable for anal sex or more-than-once-a-day vaginal sex.

Silky smooth lubricant for comfort and sensation.
Special reservoir end for extra protection.
Premium latex helps reduce the risk of pregnancy and STIs.
Each condom is electronically tested to help ensure reliability.
At Simple Pleasures, we believe that healthy sexual activity and wellbeing should be beautiful, fun, exciting, vibrant, and empowering, and for this we have the most amazing range of beautiful products for everyone. We'd love to help you set the mood for a steamy night in with the most sensual bath bombs, massage oils and body oils, gorgeous lubricants to enhance the pleasure and the most beautiful and popular adult toys available. So we will always strive to ensure that you receive the best customer service, and your order is processed and ships as quickly as possible. We are as excited to ship it as you are to receive it. All packages are shipped in discrete, non marked packaging. Only YOU will be excited to see it!
Shipping rates are a flat $12 on orders under $150, and FREE on all orders over $150. 
Purchases made by 3pm weekdays will generally ship within 24 hours. All orders ship fully tracked through CourierPost, and can be delivered to any NZ physical address or PO Box. Once your order is completed, we will send you the tracking information in a Shipping Confirmation email, or you can access your order information via Your Account on the web site.