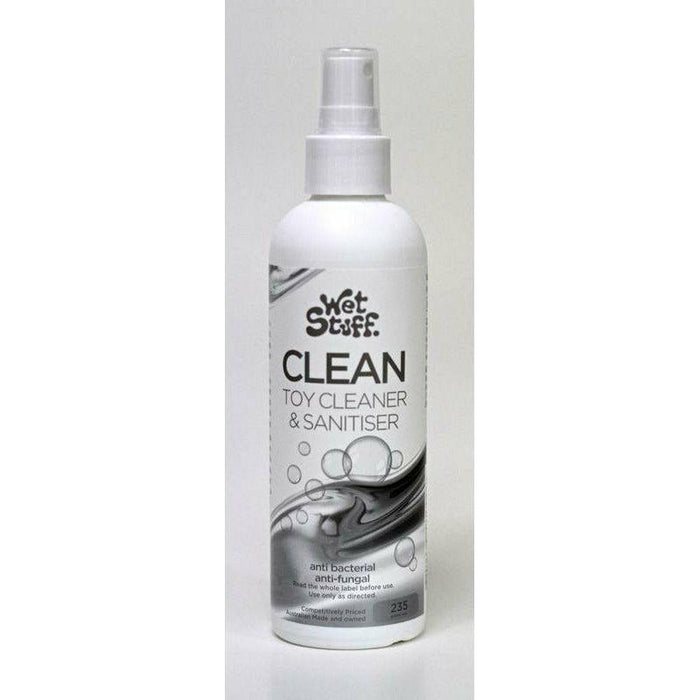 A cleaning liquid to spray onto your toys from Australia's leading manufacturers of hard surface sanitisation.
Clean is a broad spectrum sanitiser that is an effective antimicrobial agent against bacteria and fungi for use on sex toys and hard surfaces, killing 99.5% of germs.
Wash the toy or surface to be treated in mild detergent, rinse with clean water, then spray undiluted Clean onto it. Maximum effect is achieved after 3 minutes contact. Wipe away excess with paper towel or similar. Prior to personal use, rinse off or wipe adequately with water. Avoid immersing or soaking your toy in the sanitiser.
Clean contains ingredients that provide a residual antimicrobial effect for up to 2 days after application. Regular use on sex toys and accessories will aid in prevention of cross-infection. Suitable for use on silicone, latex, plastic, rubber, glass, ceramic and painted surfaces. It may be sprayed or wiped onto bathroom surfaces as an effective sanitiser. Clean should not be used directly on skin.
At Simple Pleasures, we believe that healthy sexual activity and wellbeing should be beautiful, fun, exciting, vibrant, and empowering, and for this we have the most amazing range of beautiful products for everyone. We'd love to help you set the mood for a steamy night in with the most sensual bath bombs, massage oils and body oils, gorgeous lubricants to enhance the pleasure and the most beautiful and popular adult toys available. So we will always strive to ensure that you receive the best customer service, and your order is processed and ships as quickly as possible. We are as excited to ship it as you are to receive it. All packages are shipped in discrete, non marked packaging. Only YOU will be excited to see it!
Shipping rates are a flat $12 on orders under $150, and FREE on all orders over $150. 
Purchases made by 3pm weekdays will generally ship within 24 hours. All orders ship fully tracked through CourierPost, and can be delivered to any NZ physical address or PO Box. Once your order is completed, we will send you the tracking information in a Shipping Confirmation email, or you can access your order information via Your Account on the web site.